Varna is a seaside resort in Northern Bulgaria known for its beaches, resorts and thermal springs. It is the third-largest city in the country, the largest city along the Bulgarian Black Sea Coast and an excellent summer holiday destination.
Besides all the sun and water activities along the Bulgarian Black Sea Coast, there are many historical sites and museums within the city centre where you can learn more about Varna. And there is so much to know: Varna is one of the oldest European civilizations.
So if you are planning a trip to Bulgaria, keep reading and find out all the best things to do in Varna and how you can travel to the seaside town along the Bulgarian Black Sea Coast.
Want to read this post later? Pin it on your Pinterest board!
Disclosure: This post may contain affiliate links. If you buy something through them, I will receive a small commission at no additional cost. Thank you for supporting this website. For more information, please read the disclosure for more info.
What you need to know before going to Varna Bulgaria
Before you travel to Varna, take a look at some of these useful travel tips:
You can visit Varna throughout the year. Most attractions are open, but local events and other activities are scheduled mostly in the summer only. Recommend going to Varna between May and October.
Varna has a mild climate throughout the year. But summer can get up to 35ºC, and winter has temperatures between 5 and 10ºC
It is possible to see all the best attractions in Varna in two to three days.
Varna is a safe city for solo female travellers. I was there for a few days and had no issues day or night.
Plan your visit to Varna with the following festivals and events:

"Varna Summer" International Music Festival (June-July) – Bulgaria's oldest music festival celebrating Bulgarian and Classical music.
International Folklore Festival (August) – a 5-day festival with traditional music and dances.
Celebration Day of Varna City (August 15) – a full day of concerts, regatta competitions and performances.
How to get to Varna Bulgaria
Air
Varna Airport (VAR) is 7km west of the city centre. 55 airlines fly directly to and from VAR, and many popular routes include London Luton, Frankfurt, Dusseldorf, Sofia, Prague, Brno, and many more.
To get to the Varna city centre and Golden Sands Beach, take Bus 409, which departs from the bus station in front of Terminal 2 Arrivals every 15 minutes.
Long-distance Bus
Many long-distance buses from Sofia, Plovdiv, Burgas and other Bulgarian cities arrive at the Central Bus Station Varna, located northwest of the city centre.
It is also a bus hub to Constanta and Bucharest in Romania, Istanbul in Turkey, Moldova, Ukraine and other European destinations.
To get to Varna city centre, many local buses, including Bus 409, can take you there.
Train
Taking the Bulgarian State Railways is another way to travel to Varna from Sofia, Plovdiv and other places in Bulgaria. Trains arrive at Varna Central Train Station, one of the oldest railway stations near the city centre.
The cost and schedule are similar to the long-distance buses. You can purchase tickets online or at the train station the day before your travels. And you can choose first class or second class seats.
Private Transport
Private transport is also an option, but it is the most expensive.
I include it in this Varna travel guide because I took a private car from Varna to Constanta in Romania because I didn't find a good bus option. My solo trip with My Day Trip costs €129. They also take reservations for other destinations within Europe.
How to get around Varna
The best way to see Varna on foot. You can walk to most of Varna's attractions.
The bus network is quite good for other sightseeing places outside the city centre and can get you to most places. I included the directions for all the places listed in this blog.
9 Things to do in Varna, Bulgaria
1. Visit the beaches and thermal springs of Varna
One of the best things to do in Varna is to visit the long stretch of beaches lining the city. The beaches of Varna have fine golden sand, and they stretch 32km long on the Bulgarian Black Sea Coast. The climate is mild and warm, and the water is crystal clear, making the optimal environment for the perfect sun holiday.
Besides the city beaches, sea baths dotted along the coast allow you to enjoy the benefits of thermal springs. The Hot Water (on Google Maps) is closest to the city, and it is an outdoor thermal spring west of Officers' Beach and Rappongi Beach. It is free to use, so dip in the hot sulphuric mineral water and enjoy.
2. See ancient ruins around the Varna city centre
Varna was initially a Thracian settlement and became part of the Roman Empire in 15AD. Many ancient ruins from the Roman Empire became important archaeological sites. And these are some of the ones that are worth seeing:
Varna Roman Baths (10am-6pm; closed Mondays and Sundays; 5 lev) – an archaeological site next to St Athanasius Orthodox Church, has over 7,000 sqm of old thermal baths from the 2nd century. It is the largest ancient building discovered in Bulgaria. See the ruin complex during regular hours or join one of the special events (like wine tasting) during the summer months.
Roman Baths of Odessos (10am-5pm; closed Mondays; 2 lev) – old mineral baths built between the 3rd and 6th centuries. You can see most of the ruins from the main street.
Early Christian Basilica of Odessos (24 hours; free) – the biggest Roman Basilica preserved in Varna. The site doesn't have much to see, but you can see the artifacts at the Archaeological Museum.
3. Stroll around the city centre in Varna
The city centre of Varna was once full of Ottoman-inspired architecture and ancient ruins. Today, they are replaced by Western-style architecture built in the 19th and 20th centuries, which is apparent in the city centre.
The main pedestrian zone starts from the city centre near the Dormition of the Theotokos Cathedral, and a series of pedestrian-only streets will lead you to the Sea Garden and Varna Beach.
The city centre has many architectural gems like the Opera Varna, Grand Hotel London and the Archaeological Museum of Varna. And there are notable religious buildings like Saint Nicholas Church the Thaumaturge and Armenian Apostolic Church St Sargis.
Walk along Knyaz Boris I Blvd, the main pedestrian street in the Old Town and see colourful buildings lining both sides. This is where you can find many shops, cafes and restaurants.
4. Discover all the highlights in the Varna Sea Garden
The original garden started in the 19th century and has expanded to over 90,000 sqm. Today, the Varna Sea Garden is the oldest and largest park in the city. Plus, it is one of the best attractions since the park is strategically located along the Black Sea Coast and has many highlights throughout the park.
You could spend days exploring all the nooks and crannies of the waterfront park. If you are short on time, look for these attractions:
The manicure gardens and sculptural details at the Central Entrance of the Sea Garden
Varna Aquarium
The ship collection at the Naval Museum, as Varna is known as the maritime capital of Bulgaria
Many landmarks around the park, including the Pantheon and Monument of Frontier Guard
5. See the Dormition of the Theotokos Cathedral and churches around Varna
There's one church in Varna that you can't miss: the Dormition of the Theotokos Cathedral.
The church was built in 1880 when the city's Eastern Orthodox residents decided they needed a place of worship. They ended up building the largest church in Varna (also the third largest in Bulgaria) with multiple gilded domes, numerous frescos and ornate stained-glass windows.
Besides visiting the most notable church in Varna, look for these important churches as well:
St Athanasius Orthodox Church – built in 1838 on the ruins of a small church next to the Roman Thermal Baths.
Armenian Apostolic Church St Sargis – see traditional cross-shaped church architecture that can only be found in Armenian and Georgian churches.
Saint Nicholas Church the Thaumaturge – see the mosaic portraits and frescoed interior while you are in the city centre.
6. Visit one of many museums in Varna
There's no shortage of museums in Varna, that's for sure. So if you are only spending a few days in Varna, here are some museums you may want to check out:
Archaeological Museum of Varna (10am-5pm; 10 lev) – the 2,000+ sqm museum has the largest collection of ancient terracotta, tombstone reliefs, and vessels in Bulgaria. See artifacts from the Paleolithic Age to the Bulgarian National Revival period. And don't miss the famous "Gold of Varna," a 6,000-year-old Thracian jewellery that was accidentally discovered in the Varna Eneolith necropolis.
Varna Ethnographic Museum (10am-5pm Tuesday to Sunday; 5 lev) – learn about life in Varna during the second half of the 19th century to the 20th century by seeing displays of traditional costumes, farming tools and other equipment.
The Retro Museum (10am-8pm; 15 lev) – inside the 4,000 sqm museum, see interesting displays of household items, vintage cars and other random objects from 1944-1989, when Bulgarians lived under communism.
7. Try Bulgarian Black Sea cuisine in Varna
Bulgarian Black Sea Coast cuisine consists mainly of seafood such as Black Sea mussels, grilled and fried fish, calamari, and other seafood from the Black Sea.
And in Varna, many restaurants serve fresh seafood and traditional Bulgarian food similar to what you might find in Sofia. Many classic Bulgarian dishes like shopska salad and tarator are always on the menu.
While I was in Varna, I tried these places, and they were all fantastic.
Five Corners Restaurant 3 – try the pork sach (clay pot) and parlenka (flat bread) with mixed cheese at this casual restaurant with backyard dining.
Kaptazh – order the fried scad (small fried fish), a favourite summer snack on Varna Beach.
Mehana Kashtata – try traditional Bulgarian food inside a traditional mehana, a traditional Bulgarian restaurant decorated with folklore decor.
Orient Turkish Restaurant – not exactly Bulgarian, but the Turkish restaurant serves an excellent pepper with tomato sauce appetizer and a mixed grill platter.
Other things to see in Varna: outside of the city centre
8. Varna attractions outside of the city center
Besides all the attractions in the city, there are a few worthy sightseeing spots outside the city centre. It is possible to reach all of these destinations via a public bus.
The Park-Museum "Vladislav Varnenchik" (10am-6pm Tuesday to Saturday; 8 lev) – a memorial and museum which includes a collection of equipment from the 15th century and art related to the Battle of Varna. The site itself is quite remarkable as it was the center of the battlefield from November 10, 1444. Take bus 22 or 118.
Monument of the Bulgarian-Soviet Friendship (24 hours; free) – a 23m tall socialist monument was built to remember Russia's support during the 1828-29 Russo-Turkish War. Take bus 7, 31A, 118 or 148.
Aladzha Monastery (9am-5pm; 5 lev) – a medieval cave monastery once inhabited by hermit monks in the 14th century. Today, it is a public historical monument along the Black Sea coast. Bus 29 goes directly to Aladzha Monastery.
9. Day trip to Golden Sands Beach
Many international travellers fly directly to Varna to visit Golden Sands Beach for their holiday. The Bulgarian Black Sea resort town is famous for its 3.5km long beach filled with golden sand and crystal clear water.
If you are visiting Varna, take a day trip to Golden Sands Beach, as it is only 16km north of the city and is accessible by public buses.
Even though some larger hotels have exclusive beach areas for guests, there are public free zones for day-trippers. So enjoy a day of swimming, suntanning and a variety of beach activities, including water sports. Plus, there are plenty of restaurants and bars in the area.
How to get to Golden Sands Beach: Bus 9 from Varna Central Train Station can take you directly to the beach. Alight at the last stop.
Where to stay in Varna for solo travellers
When you are travelling solo to Varna, stay in a hotel or Airbnb in central Varna so you can walk to most places. There aren't many exciting accommodation options, but I found a few that you can consider staying.
Sea Crib Apartment ($$) – I stayed here because the apartment has a full kitchen and a nice living space. Also, it is close to the beach. Check Airbnb for prices & reviews.
mOdus Hotel ($$) – If I didn't stay at the Airbnb, I would stay at this modern hotel next to the Sea Garden. Check Agoda for prices & reviews.
Classic Apartment San Stefano 9 ($$) – This is another apartment option for a longer stay. Check Agoda for prices & reviews.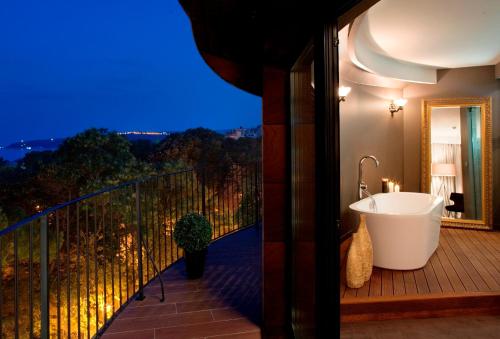 Are you including Varna in your Bulgaria itinerary?
Initially, I wasn't sure if I wanted to go to Varna because I wasn't sure what exactly there was to do and what I would see.
But after researching and spending a few days in the port city, I can say it is a must-see city along the Bulgarian Black Sea Coast. And even if you plan to visit Burgas, another seaside town on the coast, Varna has a different feel. I like both cities, so I included both in my Bulgaria itinerary for anyone who has never been to Bulgaria.
Moreover, if you decide to continue your trip to Romania, it is possible to travel from Varna to Constanta.
I hope you enjoyed reading this post and found it useful in planning your trip to Varna. Let me know in the comments if you are going to Varna and what you plan to do.
Thank you for reading my post on Varna attractions
You might also like these other posts:
Bulgaria posts:
Like this blog post? Pin it on your Pinterest board!