Vietnam is one of the best solo travel destinations for female travellers. Travellers can enjoy various activities between cities, villages and the coastal towns of Vietnam. Plus, Vietnam is a budget-friendly country where you don't have to spend much money. Definitely a perk for solo travellers!
When you are travelling solo in Vietnam, you can easily get around the country and enjoy all the beauty Vietnam has to offer. And when you spend 3 weeks in Vietnam, you can see the country's best highlights.
Keep reading and find out how you can see all the best attractions in my Vietnam 3 week itinerary. I included some of the best places in Vietnam in my Vietnam solo travel itinerary so you can make the most of your time in this beautiful country.
Disclosure: This post may contain affiliate links. If you buy something through them, I will receive a small commission at no additional cost. Thank you for supporting this website. For more information, please read the disclosure for more info.
What you need to know before spending 3 weeks in Vietnam on your own
Before you start your Vietnam solo travel itinerary, take a look at some of these useful travel tips for travelling alone to Vietnam:
Three weeks in Vietnam: how to get around
There are many modes of transportation in Vietnam. There are pros and cons for each type of transportation. Air travel is the fastest. Train travel is scenic but slow. Sleeper bus is affordable but slow. And a private car is efficient but costs more.
I included all four transportation modes in my Vietnam 3 week itinerary and they were chosen because of their schedules or availability, costs and efficiency.
Air
Vietnam Airlines, Jetstar, and VietJetAir have many domestic flights between Hanoi, Da Nang, and Ho Chi Minh City. This is the most efficient way to travel between northern, central and southern Vietnam.
Overnight train
The railway runs through the entire country. It is possible to take a train from the northern most city all the way to the south. But it will take many hours.
Sleeper bus
Many bus companies like The Sinh Tourist, operate on similar routes to popular tourist destinations. The cost is very affordable, but they make bathroom stops along the way as there are no toilet facilities on the bus.
Private Car
Da Nang Private Car and other private car companies offer customized transportation. It is not the most economical option but it can save a lot of time and you can have the ability to do things your own schedule and include side trips that were not possible with other types of transportation.
Summary: 3 weeks in Vietnam from north to south
The best way to start your solo 3 weeks Vietnam itinerary is by flying into Hanoi as your starting point. Then travel around the area before heading to central Vietnam. Then finally, finish your Vietnam 3 week itinerary by exploring southern Vietnam and depart from Ho Chi Minh City.
Here is a summary of my 3 week Vietnam itinerary:
Day 1 – 2: Hanoi
Day 3: Ninh Binh & overnight train to Sapa
Day 4 – 5: Sapa
Day 6: Sapa & overnight train to Hanoi
Day 7: Halong Bay
Day 8: Halong Bay & Hanoi
Day 9: Hai Van Pass & Hue
Day 10: Hue
Day 11: Marble Mountains & Hoi An
Day 12 – 13: Hoi An
Day 14 – 15: Nha Trang
Day 16 – 17: Mui

N

e or Dalat
Day 18 – 20: Ho Chi Minh City
Day 21: Fly home
3 weeks Vietnam solo travel itinerary from Hanoi to Ho Chi Minh City
Northern Vietnam itinerary: Hanoi, Ninh Binh, Halong Bay
Day 1-2: Hanoi
Welcome to Vietnam! Your Vietnam 3 week itinerary starts in Hanoi, the capital city of Vietnam. The city itself is easy to get around but watch out for the chaotic traffic – it is somewhat organized and chaotic at the same time.
Best things to do in Hanoi
During your two days in Hanoi, wander around the capital city and see these attractions on foot:
Walk around Hoan Kiem Lake and visit Ngoc Son Temple in the middle of the lake
Visit Ba Dinh Square and see Ho Chi Minh Mausoleum, Presidential Palace and Ho Chi Minh's Stilt House
Wait for a train to drive through the narrow Hanoi Train Street
Cross the chaotic streets in the Old Quarter
Buy souvenirs at Hanoi Weekend Night Market and Dong Xuan Market
Try Cà phê trứng aka egg coffee in one of many coffee shops in Hanoi
Wander around the West Lake and see Tran Quoc Pagoda
Where to stay in Hanoi
Book 2 nights at Movenpick Hotel Hanoi for your time in Hanoi. This is an excellent 5-star hotel with nice guest rooms and public areas. Plus, the hotel is in walking distance to the train station and several places to eat.
Also, you'll need to book another night for day 8 (after Halong Bay cruise).
Day 3: Ninh Binh & overnight train to Sapa
On day 3, take a day trip to Ninh Binh and see rural areas of Northern Vietnam. The village is also known as "Halong Bay on Land" because of its limestone mountains and serene rivers that is reminiscent of Halong Bay.
Best of Ninh Binh attractions
When you book a full day tour in Ninh Binh or a day tour to Tam Coc or any other day trip to Ninh Binh, you can see a combination of these attractions:
Tour around Bai Dinh Pagoda, the Buddhist Centre of Vietnam
See the bronze Buddha Sykamuni statue, the biggest and heaviest statue in Vietnam
Cruise around the limestone systems and caves with the Ecotourism Trang An Boat Tour
Take a Sampan river boat ride on the Ngo Dong River and visit three limestone caves
Climb 500 steps to the top of Mua Cave and see panoramic views of the countryside
Overnight train to Sapa
You don't need to book any accommodation for day 3 because you'll hop on an overnight train to Sapa.
All you have to do is meet at 9pm at the train station for the 10pm train to Sapa. Your accommodation for the night is one of the 4 sleeping berths in the cabin.
Day 4-5: Sapa
The overnight train from Hanoi arrives at Lao Cai Railway Station at 6am. Then a minibus will shuttle you to your hotel in Sapa, which is an hour away.
Day 4 and 5 will be spent hiking in Sapa along various trails with a tour guide.
What to see in Sapa with a tour
When you book a Sapa tour similar to this one, the price includes overnight train transportation there and back, a shuttle to and from the train station to Sapa, 1-night accommodation and a local guide for both days.
Here's what you will see on the two day Sapa trek:
Small farms and waterfalls in Cat Cat Village in Muong Hoa Valley
Cascaded rice fields and traditional H'Mong homes along the trek
Y Linh Ho village is inhabited by the H'Mong minority group
Lao Chai Village and Ta Van Village
Where to stay in Sapa
When you book a tour, the accommodation is included in the price. Mine included a stay at the Golden Villa Hotel. But the hotel was overbooked with other tours, so I ended up staying at the Sapa Freesia Hotel, which was much newer and nicer. This will be your accommodation for day 4.
For day 5, is an additional day that is not part of the tour. Make sure you tell your tour operator that you are staying an extra day so they can include you for the transportation (shuttle and train) for the next day.
For the extended stay, choose Pistachio Hotel Sapa, a 4-star hotel in Sapa city centre with nicely decorated rooms.
Day 6: Sapa & overnight train to Hanoi
I definitely think it's worthwhile to stay an extra day in Sapa after the 2-day organized Sapa tour. As I mentioned, just make sure you let your tour group know that you are staying an extra day so they can organize all the transport for you for the following day.
Other things to do in Sapa
On the last day in Sapa, there are a few things you can do on your own:
Visit Mount Fansipan, the highest peak in Indochina. Either do a one-day hike up the highest peak or take the cable car ride
Wander around the town of Sapa
Get a massage at one of many spas in Sapa
Overnight train to Hanoi
After dinner, take the organized shuttle bus from Sapa to Lao Cai via a windy road. Then take the train back to Hanoi via the overnight train in the comfortable sleeping berths.
Day 7: Halong Bay
You will arrive at Hanoi Railway Station very early in the morning. Make your way back to your hotel and wait for a shuttle pick-up at 8am for Halong Bay. There's a bit of time to get breakfast before hopping on the minibus.
After a few hours, you'll arrive at Tuan Chau International Marina and board your overnight cruise boat.
Halong Bay attractions
For the 2-day Halong Bay cruise, here is what you will see:
Bon Hon Island, one of the largest island chains in the region
Two large grotto chambers at Sung Sot (Surprise) Cave
Viewpoint at the top of Ti Top Beach
Day 8: Halong Bay and Hanoi
Waking up on the boat in Halong Bay is one of the best experiences. Then spend the morning cruising around the bay, see limestone islands and wild monkeys at Luon Cave and take the scenic route back to the harbour.
After lunch, the cruise boat will return to the marina where you can catch your minibus back to Hanoi.
Make sure you book an extra night at your chosen hotel in Hanoi for day 8 so you can get a good night sleep before flying out in the morning.
Central Vietnam itinerary: Hai Van Pass, Hue, Marble Mountains, Hoi An
Day 9: Hai Van Pass & Hue
The most efficient way to travel from Northern Vietnam to Central Vietnam is by flying. To save time, fly from Hanoi to Da Nang on a short flight instead of taking the bus or train.
Also, hire a private car for a pickup from Da Nang International Airport to Hue and Hoi An the following day. The private transfer can stop anywhere along the way to Hue, which includes a pitstop at Hai Van Pass.
Things to see at Hai Van Pass
Hai Van Pass is a 21km windy and scenic mountain pass on National Route 1 between Da Dang and Hue. It is Vietnam's highest pass (at 500m above sea level) and an excellent road for motorbiking.
Here is what you will see between Da Nang and Hue:
Panoramic views from Hai Van Pass
Lang Co Beach
Opportunity for a seafood lunch at a lakeside restaurant called Hải sản Bé Thân near Lang Co Beach
Where to stay in Hue
Stay 2 nights at the Alba Spa Hotel. I really liked this hotel for its design and location.
Day 10: Hue
Hue is an ancient city and was once the capital of Vietnam for 150 years. Unfortunately, it was the centre of the bloodiest battle and massacre during the Vietnam War.
Today, many people visit Hue to see historical buildings and monuments and to try Hue's unique local cuisine. Food in Hue is different from other regions in Vietnam due to its cultural traditions of food preparation that stemmed from the Nguyen dynasty.
Things to do in Hue
When you spend an entire day in Hue, here's what you can expect to see and do:
Visit the Royal Palace, a UNESCO World Heritage Site
See old helicopters and planes at the Hue War Museum
Try a bowl of bún bò huế at Dong Ba Market
Eat other unique local food at Quán Hạnh
Wander around the night market along Perfume River
Day 11: Marble Mountains & Hoi An
Like I mentioned, the private car company can also take you from Hue to Hoi An. The car will be ready around 3pm.
During your journey to Hoi An, stop for an hour or so at Marble Mountains, a cluster of five marble and limestone hills named after five elements and visit pagodas, caves and see marble statues.
Marble Mountains attractions
Climb up to the summit of Mount Thuy
Visit several Buddhist sanctuaries and Hindu shrines
See the a temple and giant marble Buddha in Huyen Khong Cave
Where to stay in Hoi An
Stay 3 nights at Cozy Hoian Boutique Villas. Tucked away in a small street close to the Old Town, the 3-star boutique hotel has ultra-modern design aesthetics mixed with traditional material and furniture. And the complimentary breakfast is superb!
Day 12-13: Hoi An
Hoi An is a well-preserved town with centuries-old houses that are still intact today. The old town has many lanterns lining the streets, and Hoi An is completely walkable.
Spend a few days exploring Hoi An. Enjoy the lantern-filled city and get custom clothing made for very little money.
Best things to do in Hoi An
When you spend a few days in Hoi An, here's what you can see:
Visit ancient houses in Hoi An Old Town, a UNESCO World Heritage Site
See ornate carvings at the Japanese Covered Bridge
Take a river boat ride on the Thu Bon River
Buy souvenirs at Hoi An Central Market
Relax and suntan at An Bang Beach
Learn how to cook Vietnamese food at Gioan Cookery School
Get custom clothing made in two days
Southern Vietnam itinerary: Nha Trang, Mui Ne or Dalat, Ho Chi Minh City
Day 14-15: Nha Trang
The best way to get to Nha Trang from Hoi An is by flying from Da Nang International Airport. The flight is short, only an hour and is very affordable.
And geographically speaking, Nha Trang is a great jumping-off point for exploring Southern Vietnam. It is a pretty coastal town with lovely beaches and many things to do.
Nha Trang Attractions
Here are some things you might want to check out while visiting Nha Trang:
Dip in hot and cold pools or take a mud bath at Thap Ba Mud Bath
Visit the temple complex at Ponagar Temple
Spend some time on the best beaches in Nha Trang
Go diving or snorkelling around the islands around Nha Trang
Visit the warm water pools at Ba Ho Waterfall
Try banh can, tiny rice flour pancakes cooked in circular claypans
Where to stay in Nha Trang
Stay 2 nights at December Hotel, a new 5-star hotel with modern contemporary rooms. The best part is the hotel is within walking distance of the city centre and the beach.
Day 16-17: Mui Ne (beach option)
Mui Ne is a small coastal town in southeast Vietnam. It is part of Phan Thiet in Binh Thuan Province and is known for its beautiful sand dunes and kitesurfing.
During your first day in Mui Ne, either hire a taxi or join one of the local jeep tours to some of the best Mui Ne attractions. Then on the second day, visit several historical sites nearby.
Best things to see in Mui Ne
Here's what you will see when you spend two days in Mui Ne:
See natural red sand and rock formations at the Fairy Stream
Take a wild jeep ride or sandboard down the slopes at the White Sand Dune
Eat a seafood meal at Mui Ne Harbour
Take a kitesurfing lesson at the beach
Watch a beautiful sunset from the beaches of Mui Ne
Visit Ong Hoang Hill and see historical structures like Prince's Castle, Po Shanu Cham Towers and Thap Po Sah Inu and Victoria Statue on the way to the top
Where to stay in Mui Ne
Stay 2 nights at the Sailing Club Resort Mui Ne, a 4-star luxury hotel has amazing bungalows and a fantastic spa facility. And not to mention the beachfront restaurant!
Day 16-17: Dalat (waterfall option)
Another option is to visit a popular hilly town, Dalat, and see the magnificent waterfalls including Pongour Waterfall, Elephant Falls and Datanla Waterfall. These are some of Vietnam's best waterfalls, and they are all in Dalat.
Bring an extra layer of clothes when you are visiting Dalat. The town is 1,500 meters above sea level, so it tends to be a bit cooler and not as humid as the coastal Vietnamese towns.
Things to do in Dalat
While you are in Dalat, here's what you can do:
Wander around Bao Dai's Summer Palace
See the intricate design of Linh Phuoc Pagoda
Find out why Hang Nga Guest House is called the Crazy House
See over 1000 shops at the Dalat Market
Visit some of the best waterfalls around Dalata including Pongour Waterfall, Elephant Falls and Datanla Waterfall
Where to stay in Dalat
Book 2 nights in the Attic Room at Pi Hostel Dalat and get all the comforts of a private room in a hostel. It is right in the middle of the city centre and the room has a gorgeous view of Dalat.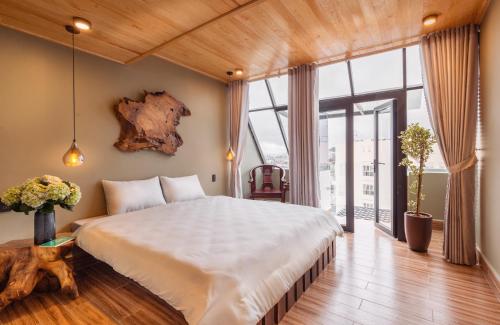 Day 18-20: Ho Chi Minh City
And finally, spend a few days in HCMC and either join a half day tour to Cu Chi Tunnel or a full-day Mekong Delta tour.
Things to do in Ho Chi Minh City
These are some of the best things to do in Saigon in 3 days:
See the most well-known building in HCMC, Saigon Central Post Office
Try authentic southern Vietnamese food and buy souvenirs at Ben Thanh Market
See artifacts and government offices at the Independence Palace
Drink cheap beer at Bui Vien Walking Street (Beer Street)
Watch the A O Show, an acrobatic show at the Ho Chi Minh City Opera House or watch a water puppet show at the Golden Dragon Water Puppet Theatre.
Where to stay in Ho Chi Minh City
Book 3 nights at The Myst Dong Khoi, a luxury hotel that has eclectic decor and furnishings. This is the perfect hotel to end your solo trip in Vietnam.
Day 21: Fly home from Ho Chi Minh City
All good things must come to an end. Catch your flight from Ho Chi Minh City and return home.
Want to take a road trip around Vietnam? Read about how you can ride a bike from Hanoi to Saigon
Are you ready to take a solo trip to Vietnam?
My Vietnam 3 week itinerary included all the best cities and activities across the country. I did exactly everything mentioned in this blog (I chose the beach option) during my 3 weeks in Vietnam.
If you can't travel for three weeks, check out the 10-day Vietnam itinerary and see all the highlights in over a week.
And if you are travelling through Southeast Asia, definitely include Vietnam in your itinerary, especially if you are spending an extended time. Check out one of the best Southeast Asia 4 month itinerary which includes Vietnam.
Let me know what you think of this Vietnam solo travel itinerary. If there are other suggestions, please do let me know in the comment section below.
Thank you for reading my Vietnam solo travel itinerary
You might also like these other posts on solo travel in Vietnam:
Like this blog post? Pin it on your Pinterest board!