As my second time to this gorgeous city, I was reminded by the grandeur of Vienna. Every corner you turn is another old building but restored to its most beautiful state. While historical buildings and monuments are well maintained, the residential buildings are quite impressive as well. You can see different architectural styles all over the city and in a pristine state. I am most impressed by how the city maintains the city.
The capital of Austria is a world-class city with many UNESCO World Heritage Sites. Vienna is indeed a very cultured city where you can spend many days meandering through museums and palaces. It is also a great solo destination as Austria is one of the safest countries in the world. If you ever wondered about Vienna, keep reading. I have a lot of information to share!
Want to read this post later? Pin it on your Pinterest board!
Disclosure: This post may contain affiliate links. If you buy something through them I will receive a small commission at no additional cost to you. Thank you for supporting this website. For more information, please read the disclosure for more info.
Why Vienna is Great for a Solo Female Traveller
As a solo traveller, you can easily get around the city on your own. As it is a walkable city, you can go almost anywhere on foot. Bike paths are all over the city. And the tram and subway are both efficient forms of transportation if you need to go a bit further. Uber is an inexpensive way of getting around as well.
If you only have a few days in Vienna, get a Vienna Pass where you can experience the city most conveniently. With the pass, you get free entry to 60+ attractions and tour the city on a hop on hop off bus. If you plan to visit many different sites in a short period, definitely get a pass as it will save you money.
Even though Austrians speak German, they understand a bit of English as well, especially around all the touristy places. You don't need to speak German to get around the city, but it would be great to say danke (thank you in German) or another phrase or two. You will be immediately welcomed with warm smiles.
And ladies, don't worry too much about safety. Austria is the 4th most peaceful country and Vienna is ranked as 5th in the world for "personal safety." And the crime rate is at an all-time low. I felt completely safe walking around at night. However, I still practice my regular safety precautions wherever I go. Any smart traveller will do the same.
What to Do in Vienna
As one of the most cultured capital in Europe, there is a lot to see in Vienna. Depending on how fast you go through the museums and palaces, you may need between two or three days in Vienna.
While it is a very walkable city, biking around the city can be fun or taking the tram may save some transit time.
First, let's orientate ourselves in Vienna. Ringstrasse (Ring Road), is a 5.3km road circling the old town. Along this beautiful boulevard is lined by Austria's most important buildings. Such as Hofburg Imperial Palace, Kunsthistorische Museum, The Natural History Museum, Rathaus (City Hall), The Austrian Parliament Building, The Vienna State Opera House and surrounded by many parks and monuments. Visiting the attractions on the Ringstrasse should be high on your list!
All the top things to do in Vienna are pinned in the interactive map. You can find more information about each attraction by clicking on the individual pin.
Museums in Vienna
Possibly the best things to do in Vienna is all within MuseumQuartier. Also known as MQ, it is one of the largest cultural sites which has over 60 cultural institutions showcasing art, architecture, music, theatre, dance, fashion and literature.
Besides the MQ, there are other art and culture exhibits all around the city. Here are some of my favourites (blue pins):
Leopold Museum – showcases Austrian artists such as Gustav Klimt, Koloman Moser, Richard Gerstl and Oskar Kokoschka. They also have the biggest collection of Egon Schiele's self-portraits and work in expressionism.
MUMOK (Museum Moderner Kunst Stiftung Ludwig Wien) – focuses on 20th-century modern and contemporary art, pop art and Vienna Actionism. You can easily spend an entire day to see both museums.
Kunsthistorisches Museum – is worth visiting if you like Dutch and Flemish paintings. I love the works by Pieter Bruegel and one of his most famous works, "The Tower of Babel" is displayed in this grand museum. The interior is pretty amazing too!
Albertina
KunstHaus Wien Museum
Museum of Applied Arts – Mak Vienna
Secession Building and learn about the Vienna Secession and how it all began.
Mozarthaus Vienna – for music lovers, specifically Mozart, visit this building which was Mozart's residence from 1784 to 1787. And today, it is a museum displaying pieces from Mozart's home and installations of his music.
Architecture in Vienna
If you are an architecture lover, like me, you would be amazed by all the different types of design in the city. My favourites were the art nouveau and modernist architecture by Austrian architect, Otto Wagner. His work can be found in various places in the city, including Österreichische Postsparkasse (Austrian Postal Savings Bank), Majolikahaus (residential home on Linke Wienzeile no 40) and Otto Wagner Pavilion Karlsplatz.
Another architectural highlight is the Hundertwasser House. Friedensreich Hundertwasser designed this residential building, and people come here to see the colourful facade where plants grow out of windows and large trees growing inside the rooms. It is one of the most visited buildings in Vienna.
Palaces & Historical Sights
A trip to Vienna wouldn't be the same without seeing a few important historical sites. Spend an afternoon and tour the beautiful Schönbrunn Palace and Gardens. It was a summer residence for Habsburg emperors back in the day. The Baroque architecture is in a stunning yellow and well-maintained while the garden is beautifully manicured.
Also, visit The Belvedere Palace, which is home to Austria's most famous painting: Gustav Klimt's "The Kiss" and Vienna's largest medieval art collection. While you are there, enjoy a leisurely stroll in the palace and admire the 18th-century Baroque palaces and landscape.
While you walk through Kärntner Strasse, a pedestrian shopping street in the centre of the city, you will discover Stephansdom (St. Stephen's Cathedral). The Gothic cathedral stands tall in the centre of the city. You can even get a closer look at the gorgeous tiled roof and a panoramic view of the city when you climb up 340+ steps.
And if you have time, don't forget to visit Karlskirche and Hofburg Palace as they both represent Viennese historical and cultural importance.
Interested in tours around Vienna. Try one of these tours below:
Related Post – Why you must visit Vienna in Winter
Day trips from Vienna
Bratislava, Slovakia
A day trip to Bratislava is easy-peasy because the capital city of Slovakia is very close to Vienna. Plus, the city has many historical sites concentrated in the centre of town where you can see them all in the same day. Some highlights include Bratislava Castle, Michael's Gate, Blue Church and Old Town Hall.
While you are in Bratislava, try some of the traditional Slovak cuisines like bryndzové halušky (potato dumplings with sheep cheese and roasted bacon) and bryndzové pirohy (pierogis stuffed with sheep cheese).
The journey from Vienna to Bratislava is only an hour by train. Or you can join a full-day Bratislava tour that includes bus transfer to Bratislava, a walking tour and a boat ride back to Vienna.
Salzburg, Austria
Visit Austria's fourth biggest city, Salzburg, for a day of historical sites and baroque architecture. Stroll through the Old Town and visit some famous sites including Salzburg Fortress, Domquartier Salzburg, and Salzburg Cathedral. And make sure to join a Sound of Music tour as the movie was filmed in Salzburg.
The train will take you from Vienna to Salzburg in 2 hours and 30 minutes.
Where to stay in Vienna Austria
Vienna attracts 12 million people each year, so there is no shortage of accommodations. It is just a matter of preference and cost. Here are some of my recommendations:
Jaz in the City Vienna ($$) – book the In-Tune room and stay at this newly built hotel

Check prices & reviews: Agoda

Hotel Schani Salon ($$) – stay at this 4-star hotel and live in walking distance to many attractions

Check prices & reviews: Agoda

Zoku Vienna ($$$) – it's a bit out of the central area but I loved my stay at Zoku Amsterdam which is why I am recommending this 4-star hotel

Check prices & reviews: Agoda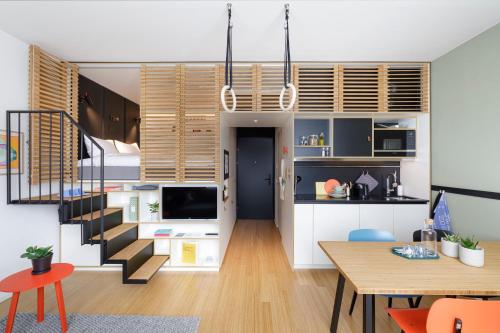 What to eat in Vienna Austria
Typical Viennese Cuisine
When you think of Austrian food, you might think of the wiener schnitzel because that is what they are famous for. And it is delicious!
But there are so many other dishes to try. Austrian food is hearty and wholesome. Many of their culinary dishes have German origin and other neighbouring countries especially Slavic culture.
For all the coffee lovers, you are in luck! The café culture dates back a few hundred years. It is a very social and relaxing activity for locals in which many people order typical Viennese coffee and a slice of Viennese cake as well. Because of the popularity of coffee culture, many old Viennese coffee houses are still around and even with the original and traditional decor.
You have to try some of the typical Viennese food:
Wiener Schnitzel – a premium cut of veal cutlet, breaded and fried in butter
Tafelspitz – traditional Viennese boiled beef soup with bone marrow, with a side of horseradish sauce and applesauce
Gulasch – originated from Hungary, stewed beef cooked in a thick gravy of paprika and garlic
White Asparagus – when white asparagus is in season, it is very delicious!
Käsespätzle – soft egg noodle
Austrian Sausages – different types can be purchased as street food
Leberkäse – a slice of mixed meat (beef, pork, bacon) in a dinner roll
Schnitzelsemmel – schnitzel in a dinner roll
Frittatensuppe – slices of pancake in a clear broth soup
Griessnockerlsuppe – vegetarian dumpling soup
Leberknödelsuppe – beef dumpling soup
Brezel – soft pretzel
Apfelstrudel – a classic Austrian dessert, apple strudel made with thin pastry, stuffed with apples, cinnamon, breadcrumbs and raisins
Kaiserschmarren – a Viennese delicacy where cut pancake is served in a pan with stewed plums and apple puree
Palatschinke – thin pancake with apricot jam
Sachertorte – the most famous Austrian cake which is a chocolate cake with thin layers of apricot jam
Mannerschnitten – Manner is the original Neapolitan wafers
Weiner Melange – a typical Viennese coffee which has 50% mocha and 50% heated milk
Austrian Beer – many to choose from including Stiegl and Ottakringer
Schnapps – alcoholic spirit including Zwetschgenschnapps (plum schnapps) and Marillenschnapps (apricot schnapps)
Austrian wine – Grüner Veltliner is a typical white wine Austrians drink
Spritzer – white wine + soda water, a perfect summer drink
Where to eat in Vienna Austria
Some of the places below came highly recommended by locals. And I have to say; they were some of the best meals I've had. Super authentic and delicious! You don't have to worry about eating as a solo traveller. It is very common in Vienna.
Plachuttas Gasthaus zur Oper – Walfischgasse 5; you have to order the wiener schnitzel! An order has two pieces of veal schnitzel and a side of potatoes salad
Figlmüller Wollzeile – Wollzeile 5; their schnitzel is made with premium veal that is larger than their plate!
Plachutta Wollzeile – Wollzeile 38; if you are going to this restaurant, then you have to order the famous Tafelspitz! First, you drink the beef broth. Next, eat the bone marrow with toast. Then savour all the boiled beef with horseradish sauce. You won't regret it!
Naschmarkt – Linke Wienzeile 48-52; Vienna's largest food market. Restaurants and food vendors line the mile-long market. There's even a flea market on Saturdays.
Bitzinger – Albertinaplatz 1; Vienna's street food stand that serves the best bratwurst and leberkäse
Café Sperl – Gumpendorfer Str. 11; a Viennese coffeehouse with traditional interiors. Try a slice of the sachertorte and pair it with a melange
Café Mozart – Albertinaplatz 2; I couldn't help but to go in for a fancy coffee treat. The traditional interior is as good as their coffee and dessert.
Café Sacher – Philharmoniker Str. 4; you have to experience the opulent interior and delicious cake here. After all, they invented the sachertorte!
Allergiker Café – Wiedner Hauptstraße 35; the lovely owner runs this little cafe. She makes all the cakes and coffee herself. And she hosts artist nights at her cafe where people come in and perform.
TOP cinema bar – Rahlgasse 1; order a spritzer and enjoy a leisure afternoon of sitting outside and people watching.
Are you ready to travel solo to Vienna Austria?
Like this blog post? Pin it on your Pinterest board!