When I think of Budapest, I think of digital nomads working in coffee shops and coworking spaces. I also think of bachelor and bachelorette parties every weekend. And you cannot forget about the famous thermal spas! And most of all, I think of beautiful architecture on both sides of the Danube River that make up the Budapest.
As one of Europe's best travel destinations, Budapest attracts millions of visitors each year. In Budapest, solo travel is very common. Many single travellers visit the Hungarian city and have the best time! Between all the historical and cultural buildings, museums and all the thermal spas, I can honestly say I thoroughly enjoyed my solo trip to Budapest.
If you are wondering what to do alone in Budapest and if the city is a safe destination for solo female travellers, then keep reading. I compiled everything I know about Budapest in this post. So follow along!
Related Post – Solo Travel Guide to Vienna, Austria
Want to read this post later? Pin it on your Pinterest board!
Disclosure: This post may contain affiliate links. If you buy something through them, I will receive a small commission at no additional cost to you. Thank you for supporting this website. For more information, please read the disclosure for more info.
What you need to know before travelling solo to Budapest Hungary
Before you take your Budapest solo holiday, take a look at some of these useful travel tips for travelling in the Hungarian capital city:
Hungarian Forint (HUF) is Hungary's official currency.
The standard voltage is 230V. Power sockets are of type C, and F. Check here and see if you need to bring a travel adapter.
Use GoogleMaps app to navigate around Budapest.
You can get by speaking English in Budapest. Most Hungarians speak English especially in the tourism industry.
Budapest is safe for solo female travellers. But with visiting any big cities, please practice your normal safety precautions. Violent crime is not prevalent, but pickpocketing and scams occur in touristy areas.
Hungary entry requirements
Hungary is part of the European Union (EU) and the Schengen area.
Non-EU travellers can only stay in the Schengen region up to 90 days within a period of 180 days. And you will need a valid passport for at least 3 months after the date you intend to leave the EU country and it must issued within the last 10 years.
Check if you need to apply for a Schengen visa from a Hungarian consulate or embassy and apply for a visa before you leave your home country.
How to get to Budapest Hungary
Air
Budapest Airport (BUD) or Ferenc Liszt International Airport, is located 16km southeast of the city centre.
The easiest way to get to Budapest city centre is by taking Bus 100E which is a direct public bus from Terminal 2 to Deák Ferenc tér in the city centre. There is a bus every 20 minutes (5:00 am to 1:20 am) and it takes about 35 minutes. Costs 900HUF.
Rail
There are 3 rail stations in Budapest: Keleti Pályaudvar Station (east), Nyugati Pályaudvar Station (west) and Budapest-Déli Station (south).
Depending on where you are coming from, you could be arriving at one of these three stations.
How to get around Budapest Hungary
Budapest is very easy to navigate and most places are walkable.
But you can also take public transit BKK (buses, trams, four metro lines, trolley buses and suburban railway). They are all very easy to use.
Tram 2 takes tour around the city and experience the panoramic sightseeing tour on the yellow streetcar that follows the Pest embankment. Metro 1 is the world's third oldest subway.
Tickets for public transport can be purchased at the airport, newspaper stands and from the ticket machines at the price of 350HUF. Tickets purchase directly from the driver costs 450HUF.
Depending on how long you are travelling solo in Budapest, you can get a 24-hour, 72-hour, or weekly pass for all Budapest public transportation. Alternatively, you can get a BudapestCard which includes all public transportation, free entrance to 19 museums, and free walking tour.
What to Do in Budapest Hungary
First, let's about talk geography. The Danube River split Budapest into Buda (west of the river) and Pest (east of the river).
District I is on the hilly Buda where you will find Castle Hill.
The flat Pest is divided into many districts, but the ones you will want to know is District V Inner City, District VI & City Park (technically District XIV), District VII Jewish Quarter and District VIII Palace District.
There are many other districts, but chances are you will be spending the majority of your time in these districts. Check the map for more details.
All the top things to do in Budapest are pinned in the interactive map. You can find more information about each attraction by clicking on the individual pin.
District I Budapest
Spend an afternoon strolling the hilly Buda where you will find Buda Castle, Fisherman's Bastion, and beautiful Matthias Church all on Castle Hill. You can either hike up the hill or take the funicular all the way to the top. For those who like museums, Budapest History Museum and Hungarian National Gallery are on Castile Hill as well.
And while you are on the Buda side, walk up to the Citadella on top of Gellert Hill for the best spot for sunset. On the way back down, the Hotel Gellért and Gellért Thermal Bath are just at the base of the hill.
District V Inner City
One of the best ways to experience Budapest is walking along the Danube River. You can get a close-up and personal experience with the Hungarian Parliament Building, the iconic Neo-Gothic building in front of the Danube. Make sure to check out Shoes on the Danube Bank. They are little sculpted shoes next to the Danube.
And make sure you cross the river via Liberty Bridge and Széchenyi Chain Bridge which is the first stone-bridge, symbolic of Budapest. When you are hungry or wanting some retail therapy, Vaci Utca is where you want to be. And if you keep walking north, you'll find St. Stephen's Basilica, a Roman-Gothic basilica.
Or xperience the Danube River by cruising down the river in a Danube River Cruise. The 1-hour tour cruises down the Danube during the evening and it includes a welcome drink too.
District VI + City Park
As one of Hungary's World's Heritage sites, Városliget (City Park) has a lot to see and do. You are first immediately greeted by Hősök Tere (Hero's Square), which is the largest and most impressive square in the city. And immediately around the vicinity of Hero's Square, take in some culture at the Museum of Fine Arts and Kunsthalle (Hall of Art). Walking further in, you will find Vajdahunyad Castle, a romantic castle by the boating lake. And Széchenyi Thermal Bath is also in the park as well.
House of Terror is a bit south of the City Park. A monument to remember all those held captive, tortured and killed in this building. As horrific as it sounds, the horror ended with the victory of freedom and independence.
District VII Jewish Quarter
There are a lot of casual eateries and shops in the Jewish Quarter. You can find some of the best Hungarian food in this district. See below for more restaurant suggestions.
And while you are in the Jewish Quarter, visit the Dohány Street Synagogue, the largest synagogue in Europe. The building itself is quite impressive along with the intricate details in the courtyard. A lot of significant events took place in the synagogue, and it is considered to be the most important religious place of the Neolog Jews in Hungary to this day.
Ruin bars are synonymous with Budapest nightlife, and they are all in the Jewish Quarter. Essentially, they are bars in old and abandoned spaces. It doesn't sound very attractive but it is the most happening nightlife and bar scene in the city. Even if you are travelling alone, you should still experience this as it is truly unique to Budapest only.
And you have to visit Szimpla Kert because this is THE ruin bar of Budapest! The interior feels like a maze as you walk through each room. I saw this space during the day and it was dizzying. Can't imagine at night after a few drinks! Or try one of the best Budapest ruin bar crawls if you want to do a bar-hop experience.
Thermal Baths
One of the unique activities that you need to do is going to the thermal bath. Budapest is known for thermal baths! You have to try at least one! They are relaxing and have a medicinal effect due to the mineral-rich waters.
Most people will visit Széchenyi Thermal Bath because of its beautiful complex. It is one of the largest bath complexes in Europe with 21 pools. To use the thermal spa, you pay an entrance fee which includes the use of all thermal baths, saunas and aqua fitness. Indoor pools have various temperatures while a beautiful yellow Neo-Renaissance building surrounds the outdoor pool. You can also pay more to experience the Beer Spa where you sit in a tub of beer and have all-you-can-drink beer from the beer tap next to the tub.
However, Gellért Thermal Bath was my favourite. Even though the spa is part of Hotel Gellért, the spa is open to the public and has spa treatments and an outdoor pool as well. The Art Nouveau building is decorated with colourful mosaic tiles. The overall feel and ambiance are relaxing and comfortable.
Rudas Spa and Király Thermal Baths are both highly recommended during my research. And there are sparties, spa + parties, on Saturdays at either Széchenyi during warmer months and Lukács Baths during winter months, where you can enjoy a bevy and music in the thermal spa!
Street art in Budapest
When you walk around Budapest, you can see colourful murals on the sides of buildings, under a bridge, in ruin bars, and around open courtyards. Some of these murals are quite big – over several storeys tall. These vibrant wall murals match the vibe of the city.
Festivals in Budapest
There are a lot of festivals during the warmer mothers in Budapest. One of the best ways to find out about them is to check out. We Love Budapest website. It has all the upcoming calendar events and activities.
Some favourite events include Budapest100, where some of Budapest's squares and courtyards inside buildings are open to the public for viewing. There are some elaborate and intricate courtyards all around the city but usually not accessible. This is the one day where some of them are open to the public for viewing. There is also the Night of the Museums where visitors can visit the participating museums past midnight.
As for food, both Beer Week and Gourmet Festival at Millenaris Park are happening around in May. The one event I was able to participate was the Rosalia Festival where Hungarian rosé winemakers gather at the City Park for a weekend. There are performances, typical Hungarian food stalls and of course, lots and lots of rosé wine!
If you want to make the most of your time in Budapest, check the event calendar so you will not be disappointed.
Day Trips from Budapest
There are several great day trips from Budapest that you can take and one of the best ones is Szentendre.
Szentendre
If you have time to venture outside of Budapest, Szentendre is a small town just 45 minutes away by train. The little Serbian town has churches, museums, galleries, and cafes in a serene baroque setting. There are summer festivals and a lot of art and cultural events in this quaint cobblestone town. Some of the must-sees include the Hungarian Open Air Museum and Blagovestenska Church.
For a self-tour from Budapest, take the suburban train H5 at Batthyány tér and take it to the end of the line. On the way back, take the boat from Szentendre at 5:00 pm back and you will experience the boat ride on the Danube River slowly cruising its way back to Budapest.
Or if you want to make it easy-peasy, then join a day tour to Szentendre that includes a boat ride on the Danube and lunch.
Where to stay in Budapest Hungary
There are plenty of good and cheap hostel options in Budapest. Below are the two best hostels in Budapest for solo travellers. I also including a mid and high-end hotel option.
For more information for each accommodation option, check out the description below and the location on the map by clicking on the individual pin.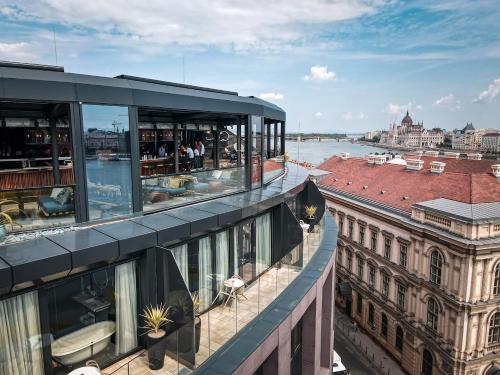 What to eat in Budapest Hungary
I love traditional Hungarian food! Before this trip, I only know about Hungarian goulash, and that's about it. I was pleasantly surprised to learn I don't have to eat goulash every meal! Ha! Not like that's a bad thing though…
Typical Hungarian Food and Drinks in Budapest
Gulyás – Hungarian goulash is the most popular dish, sometimes serve in a bread bowl
Paprikás Csirke – chicken paprikash is made with red spiced paprika and stewed chicken leg
Pörkölts – boneless meat stewed with paprika, vegetables but without potatoes
Jókai Bean Soup – soup made with sour cream, smoked pork, parsley root and carrots
Lecsó – thick, stew-like vegetable soup with green and red peppers, tomatoes, onion, paprika
Halászlé – fisherman's soup, hot, spicy paprika-based river fish soup
Lángos – fried dough, like pancake-style pizza with sour cream and cheese
Meggyleves – chilled sour cherry (or fruit) soup
Kolbász – boiled, dried, or smoked Hungarian sausages can be eaten as cold cuts or in stews and salads. It contains bacon, ground pork, beef, lamb, paprika, garlic, pepper, nutmeg and the local spice
Töltött Káposzta – stuffed cabbage rolls made with pickled cabbage, minced pork meat, paprika and sour cream on top
Libamáj – fried goose liverGyros – Hungarian kebab
Nokedli – Hungarian dumpling looks like spaetzles
Túrógombóc – curd or cottage cheese dumplings in a ball shape, boiled in water, covered with buttery breadcrumbs, served with sour cream
Dobos torta – Hungarian sponge cake covered in chocolate and caramel
Ruszwurm cream cake – exclusive sold at Cafe Ruszwurm
Gesztenyepüré – like a Mont Blanc, chestnut puree with whipped cream
Rákóczi Túrós – shortcrust pastry, with sweet cottage cheese and meringue and apricot jam
Kürtőskalács – chimney cake made with sweet yeast shaped in a cone
Rétes – Hungarian strudel
Kifli – Hungarian yeast roll in a crescent shape
Fröccs – white wine and soda water, a Hungarian summer drink
Pálinka – strong spirit that can be blended with honey
Unicum – Hungarian herbal liquor
Tokaji – dessert wine
Where to eat in Budapest Hungary
There is delicious Hungarian food everywhere! Many casual eateries are the Jewish Quarter, and food stalls are all over the city. I probably had way too much good food during my Budapest solo trip.
And Budapest is a very popular city for digital nomads. Primarily because of the city's cost of living. It is definitely more affordable than in other European cities. And not to mention the availability and speed of data and wifi. Also, there are a lot of places that support the digital nomad lifestyle. Coffee shops are everywhere and have perfect workstations if you want to put in a full day's
Hungarian food
Karaván Street Food ($) –

there are many food stalls to choose from. I went there three times and ordered the beef lángos burger. You have to try this if you are in Budapest!

Nagy Vásárcsarnok ($) – indoor market on the ground floor and restaurants on the upper floor
Hummus Bar ($) – they serve delicious comfort food in the form of pita and hummus
Bors GasztroBár ($) –

known for their delicious soups and pressed sandwiches, the rowdy kitchen and fun menu boards make this little resto a must-try!

Mazel Tov ($$) – a tranquil, casual space that serves Israeli food. Try their Israeli brunch on the weekend; it is to die for!
Kispiac Bisztró ($$) – one of the cutest restaurants in Budapest and the best food! Try their asparagus with serrano ham, fat duck liver and grilled duck. Don't forget to order a bottle of Hungarian red wine to go with the deliciousness! And make a reservation if you can.
Coffee shops and cafes
Molnár's Kürtőskalács Cafe ($) – they make their chimney cake fresh! Try the cinnamon as that is the most popular one. And the one with the soft-serve ice-cream is great for a hot summer day (or any day you feel like ice-cream! Ha!)
Cafe Ruszwurm ($) – one of the oldest cafes in Budapest. I love their dobos torta cake and Ruszwurm cream cake!
Magveto Cafe ($) – a comfortable space with different types of seating. The cafe has great wifi and cake selection, and they welcome dogs (a lot of places do)
Madal Cafe – one of the best coffee shops to work in Budapest! I love their simple interiors, delicious cappuccino and great wifi. Make your way to the second floor to do some serious work!
Konyha ($$) – an eclectic space for food patrons and remote workers. I tried their 3-course lunch which includes a fruit soup, pork tenderloin and a cream cheese dessert. The price is reasonable. The upstairs space is great for working.
Kelet Café – a cute little cafe on the Buda side. The breakfast is delicious, but the wifi is intermittent. But still, a great space to do some serious work.
My Little Melbourne Coffee and Brew Bar – seems like all the good cafes have the second floor and this one is no exception. I happily worked most of the afternoon upstairs with my cappuccino and lamington (an Australian cake). Yum!
Blue Bird Cafe Hand Made Roastery – a small but cozy space. They sell coffee beans too!
Are you ready to travel solo to Budapest Hungary?
Phew! That was a lot of info! Hope you like this informative post about solo travel in Budapest! And if you are considering travelling to Budapest alone, go for it! I feel that Budapest is safe for solo female travellers even if you are going there for the first time on your own. I was there for more than a month and didn't have any issues.
Honestly, I can stay even longer if I had the time. But if you have time constraint, you can see Budapest in 2 days and still see all the best Instagrammable places.
Let me know in the comments if you have any specific questions about travelling solo in Budapest.
Like this blog post? Pin it on your Pinterest board!